2020 Provost SOLER Seed Grants 
Request for Proposals
Purpose 
The Science of LEarning Research (SOLER) Initiative of Columbia University's Office of the Provost is pleased to announce the 2020 Provost SOLER Seed Grant (PSSG) Request for Proposals (RFP). The goal of this RFP is to facilitate and support Discipline-Based Education Research (DBER) efforts at Columbia. DBER lies at the intersection of disciplinary content, the advancement of teaching and learning, and social science research (Figure 1). The PSSG opportunity will provide faculty members across the University with funding to engage in DBER – that is, to better understand and improve teaching and learning by developing, implementing, and empirically testing the impact of pedagogical innovations in Columbia courses. As a long-term goal, this grant is intended to enable faculty competitiveness for external funding with agencies such as the National Science Foundation and the Institute for Education Science. The strongest applications will therefore propose innovations that are grounded in established learning science, feature an experimental design, and present qualitative, quantitative, or mixed methods for assessment of student outcomes.
Scope 
The PSSG will support a wide range of curricular innovations with a targeted focus on potentially transformative projects that will be implemented in the undergraduate or graduate curriculum at Columbia and that provide opportunities for novel DBER. Proposals should include an innovation aspect as well as a plan to evaluate the impact of the innovation. Projects may involve acquisition of new knowledge about teaching and learning, or they may involve the novel application and assessment of existing knowledge based on past or ongoing research. In all cases, projects should emphasize data collection and analysis. Possible projects include, but are not limited to, the following:
Developing and exploring any novel and potentially transformative approach to teaching an undergraduate or graduate course at Columbia
Situating a rigorously tested pedagogical approach that has been proven to work in one context within another
Utilizing technology within or beyond the classroom in novel ways
Fostering interdisciplinary collaborations among faculty or students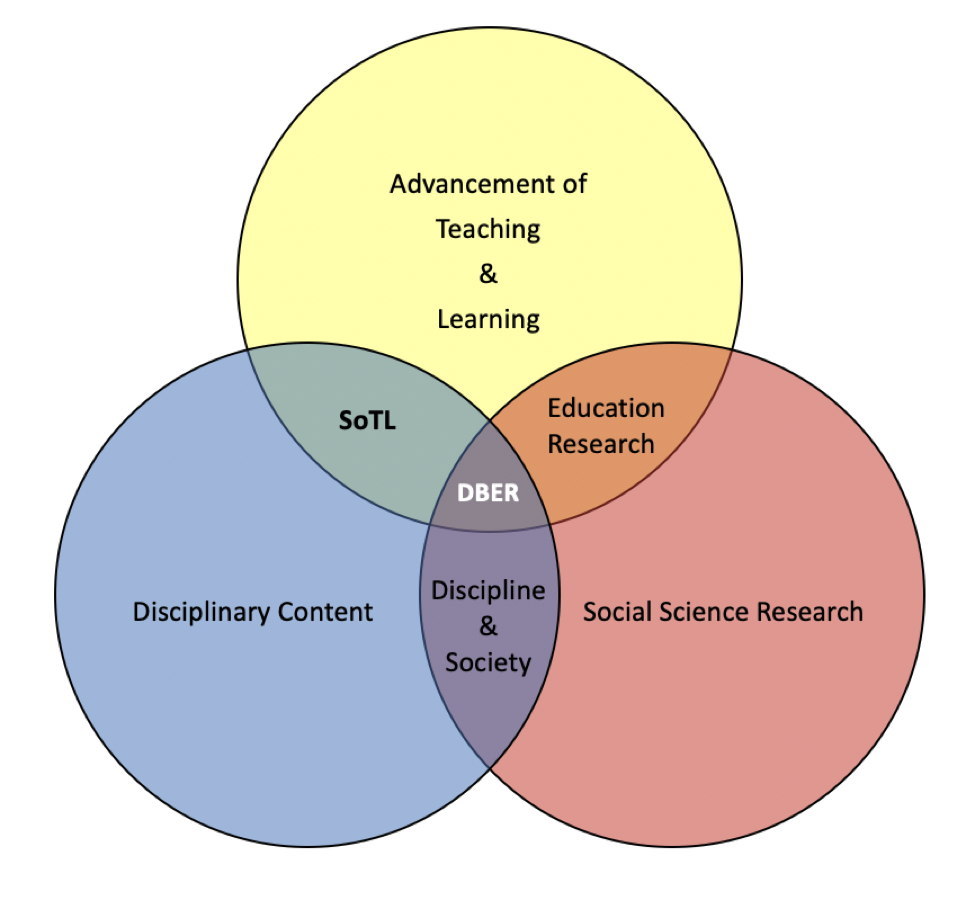 Figure 1. Discipline-Based Education Research (DBER) lies at the intersection of the advancement of teaching and learning, social science research, and disciplinary content. In this formulation, DBER is a research-focused subset of the Scholarship of Teaching and Learning (SoTL). Adapted from Lukes, et al. (2015). 
Eligibility
The Principal Investigator (PI) as well as Co-PIs (see below) must be full-time Columbia faculty members.
Postdocs, graduate students, part-time or adjunct faculty, and staff may be included on proposals as co-investigators but may not serve as PIs or Co-PIs. 
Funding
Teams can apply for up to $5,000 for projects of up to 12 months in duration.
Funding will be disbursed on a rolling basis no earlier than June 30, 2020.
Funding is typically, but not exclusively, used for these types of expenses:

Data collection and analysis
Research assistant(s)
Research-related travel
Conference presentations
Collaborations with other institutions, external specialists, and consultants
Submission Deadline
Applications will be reviewed on a rolling basis.
Application Process
Applicants are strongly encouraged to schedule an individual consultation with SOLER prior to submitting the application in order to develop the project plan and define the scope of in-kind support. Please contact soler@columbia.edu to schedule a consultation. 
Use this link to access a Google Form where you can download the proposal template and upload your completed application. Include a letter of support from your department or program chair in PDF format.
Support for Awardees 
SOLER personnel will assist awardees through in-depth consultations, including framing programmatic objectives, developing or refining your assessment or evaluation, devising methods for data analysis and visualization, developing a plan to disseminate findings, and preparing materials for coverage under SOLER's IRB umbrella protocol.
Awardees' Obligations
Agree to work with a facilitator from SOLER who will serve as a consultant, provide feedback, and monitor progress according to the project timeline provided in the proposal.
Participate in the programming offered by SOLER related to the PSSG, including:

Attendance at a virtual PSSG workshop/planning session for all awardees in summer 2020 (time and date TBA)
Presentation of project outcome in the SOLER speaker series in spring 2021
One or more of the following:

Leading interest groups in topics related to the research project
Facilitating seminars that mentor or support new researchers
Participating in the SOLER spotlight video series.

Submit a final project report within 12 months of receiving funds.

The research team's project must receive IRB approval under SOLER's umbrella protocol.
Awardees must include plans for securing external funding and are required to submit a proposal building on the PSSG-funded study within 24 months of receiving PSSG funds.
Awardees must acknowledge receipt of SOLER support in any presentation or publication of work resulting from this support.
Review Criteria
Funding decisions will result from peer review of proposals in response to this call. Reviews for submitted proposals will be based on the following:
The potential impact of the project on student experience
The soundness, creativity, and uniqueness of the proposed scholarship and its potential contribution to the advancement of the field of SoTL
The appropriateness of the budget, including faculty time commitment
The sustainability and long-term impact of the project, including the scholars' potential to serve as resources for others in the SoTL community.
Review Process
A panel consisting of SOLER Faculty Committee members and SOLER staff will review proposals.
Applications will be notified of award decisions on a rolling basis no earlier than June 15, 2020.
Proposal Features 
Use this link to access a Google Form where you can download the proposal template and upload your completed application. Include a letter of support in PDF format. The proposal form consists of the following sections:
Section 1: Project Summary
Project title
Designate one investigator as the Principal Investigator (PI). Include the PI's full name, title, department, and email address.
List all other personnel (e.g., collaborators, graduate students, postdocs) as co-investigators. Use an asterisk to indicate any co-investigator designated as a co-PI (for example, if the application involves a collaboration between two faculty members). 
Abstract: Describe the project in lay terms; articulate the project objective; specify what makes the project innovative; describe your assessment or evaluation plan to ascertain student impact. 
Section 2: Project Description
Project Scope

Framing: Specify your overarching objectives; identify and describe sub-goals or specific aims and how these align with the overarching objectives; identify how the proposed innovation will meet those goals.
Participants: Identify your target participants (e.g., students); specify how participants will be identified and contacted; approximate how many participants will be impacted during the grant period; beyond the PSSG duration, briefly describe how the innovation will continue to benefit later student cohorts.

Rationale and Literature Review

Describe how the project aligns with national and/or Columbia strategic initiatives.
Highlight key findings of relevant educational research. Include citations as appropriate.
Describe any prior work your team has done in this space.

Assessment and Evaluation Plan

Address how sub-goals or specific aims will be measured:

Describe novel or to-be-adapted measurement tools (e.g., surveys).
Outline key comparisons and briefly describe data analysis procedures.

Indicate how you will monitor the effectiveness of the project as it evolves
Identify curricular changes you envision your project leading to at Columbia and describe how such changes will be achieved.    

Role of Key Personnel

Specify the expectations and obligations of all project personnel.
Include a brief description of requested assistance from SOLER facilitators. 
Section 3: Project Timeline
Use a timeline to depict the schedule for your project. The timeline should include start and finish dates for your project as well as the dates or periods during which various project tasks will occur.
All elements of the project should be completed within 12 months of receiving funds.
Section 4: Budget Overview and Justification
Provide a detailed budget and justification for funds. Funding can be used for course preparation, external course content, technology and media development costs, administrative costs, and teaching assistants/research assistants. Please mention all other sources of funding, if any.
The total budget should not exceed the maximum award amount of $5,000. 
Section 5: Letter of Support (1-page maximum)
A short letter of support from the PI's Department Chair must be uploaded as a separate PDF along with your application.
Reference: Lukes, L. A., LaDue, N. D., Cheek, K. A., Ryker, K., & St. John, K. (2015). Creating a community of practice around geoscience education research: NAGT-GER. Journal of Geoscience Education, 63(1), 1-6.